TerraStar for Precision Agriculture
Service options for all your needs1
Year-Over-Year
Repeatable Accuracy
(95%)
Vertical Accuracy
(95%)
Pass-to-Pass Accuracy
(95%)
Convergence Time
RTK Bridging
Correction Delivery
L-Band Satellite
Internet
Hardware
Supported GNSS Signals

TerraStar-C PRO2

Global
2.5 cm

5 cm

2 cm

5 min

–
SM2
SM7
OEM7
GPS
GLO
GAL
BDS

TerraStar-C

Global
5 cm
10 cm
3 cm
<30 min
–
SM6-L
OEM6
GPS
GLO

TerraStar-L

Global
50 cm
75 cm
15 cm
<5 min
–
All hardware
GPS
GLO

TerraStar-X3

Regional
2.5 cm
5 cm
2 cm
<1 min
Unlimited
SM7
OEM7
GPS
GLO

RTK ASSIST

RTK Outage
Support
Maintain RTK Performance
20 min
SM7
SM6-L
OEM7
OEM6
GPS
GLO

RTK ASSIST PRO

RTK Outage
Support
Maintain RTK Performance during outage
and includes TerraStar-C PRO service
Unlimited
SM7
OEM7
GPS
GLO
GAL
BDS
Best performance in open sky. Performance specifications are subject to local environmental conditions and satellite geometry.
Best performance achievable on 7.08.12 firmware and newer with full multi-constellation and multi-frequency support.
Subscription includes TerraStar-C PRO functionality outside of the TerraStar-X region.
TerraStar-C PRO: Now with 5 minute start-up!
Better than ever before, TerraStar-C PRO users now experience noticeable improvements in performance including convergence time, accuracy and recovery. The best performance is achievable with hardware support for all signals (full frequency, multi-constellation), on firmware 7.08.12 and higher.
Full GNSS Signal Support

| | | | | |
| --- | --- | --- | --- | --- |
| GPS | L1 | L2 | L5 | |
| GLO | L1 | L2 | | |
| GAL | E1 | E5a | E5b | E6 |
| BDS | B1C | B2a | B2b | B3 |
TerraStar-X region
TerraStar-X is available regionally in the United States, approximately represented by the mapped green area. A subscription also includes access to TerraStar-C PRO corrections for positioning outside the green region.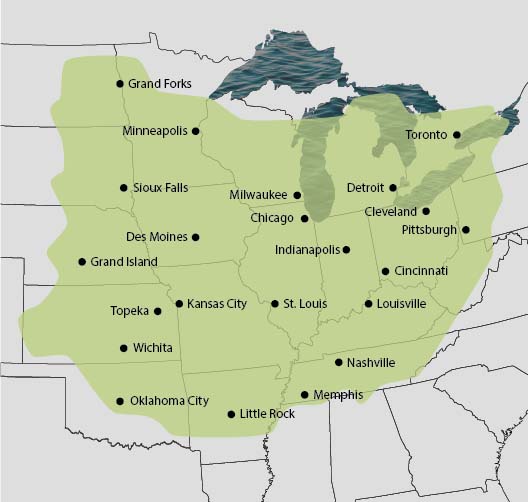 I need RTK bridging support
TerraStar offers two options for users relying on RTK corrections and looking for a seamless positioning experience with maximum coverage. TerraStar's RTK ASSIST and RTK ASSIST PRO provide reliable and accurate position bridging during RTK outages and can offer an independent PPP solution if you start up outside of your RTK coverage.
RTK ASSIST
Maintains centimetre-level positioning for RTK correction outages up to 20 minutes
Seamlessly bridges corrections during brief RTK outages from tree lines, buildings, or low cellular bandwidth
RTK ASSIST PRO
Supports centimetre-level positioning for lengthy or indefinite RTK outages
Enables independent PPP positioning for high accuracy solutions outside of areas with existing RTK infrastructure, network coverage or base stations
Seamlessly operates in the background throughout large project areas where dropped signals or lost base station lines are frequent hazards
Learn how TerraStar extends your positioning accuracy through RTK bridging